European Federation of Sexology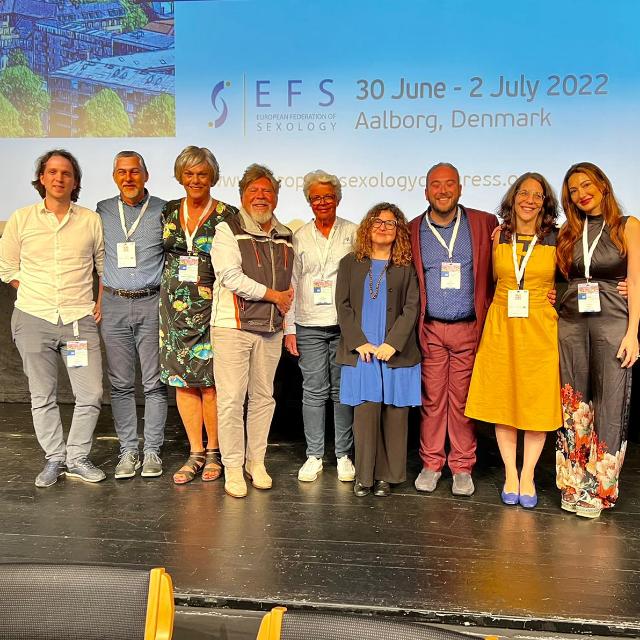 EFS Mission
EFS recognizes sexuality as central to human life, health, well-being, and human rights.
EFS is the voice and the core network for professionals working in sexology in Europe.
EFS promotes excellent and ethical practice in education, knowledge, and skills to celebrate sexual health, intimacy, and diversity with compassion, free from prejudice and violence.
EFS HIstory
The European Federation of Sexology (EFS) was founded as a non-profit Association by Willy Pasini, together with the Maurice Chalumeau Fund from the University of Geneva in Switzerland 1991 following the Swiss Civil Code. The Founding Members of EFS are recognised as Willy Pasini, Robert Porto, Erwin Haeberle, Maj Brit Bergström-Walan, Piet Nijs, Gorm Wagner & Gilbert Tordjman.
The five Past Presidents of EFS are Willy Pasini (1988-1992), Robert Porto (1992-2006), Antonio Palha (2006-2010), Chiara Simonelli (2010-2017) & Kevan Wylie (2017-2020). The current president is Mehmet Sungur who started official duties on 1st July 2020.
The original statutes of the Federation from 1991 have been revised on three occasions in 2002, 2006 and 2016.
On 3rd September 2020 nine founding members met by telecall and agreed to establish EFS as a legally registered Association in Croatia. The participants were Mehmet Sungur (President EFS), Esben Esther Pirelli Benestad (General Secretary EFS), Kevan Wylie (Past President EFS), Goran Arbanas (Treasurer & Executive Committee Member based in Zagreb, Croatia), Helle Nygaard Gerbild. Evie Kirana, Filippo Nimbi, Francesca Tripodi & Tiina Vilponen.
Executive committee
It is in charge of and responsible for the management of the Federation, and of any form of activity in accordance with resolutions of the General Assembly
Officers
The executive committee includes 4 officers: President, President Elect/Past President, Secretary General and Treasurer.
Scientific Committee
Takes part in realizing the scientific program for the EFS Congress, structuring monothematic courses to be offered to the Member Societies and drafting documents for insiders such as guidelines and e-books.
Training and Education
Develops and proposes the European Standards for training in sexology at different levels (Sex Educator, Counsellor and Therapist), to accredit European courses, seminaries and trainings and to collaborate with the European Society for Sexual Medicine (ESSM) for the EFS & ESSM Certified Psycho-Sexologist (ECPS) exams.
Congress committee
It is in charge of and responsible for the management of the congresses and events organized by the EFS
Liaison, Membership and Fundraising
Takes part in getting connected with members and other entities, defining collaborations and projects.
Social Media committee
Manages social networks and media contacts for the broadcasting of scientific news.
Last updated statute and addendum (e.g., bylaws)