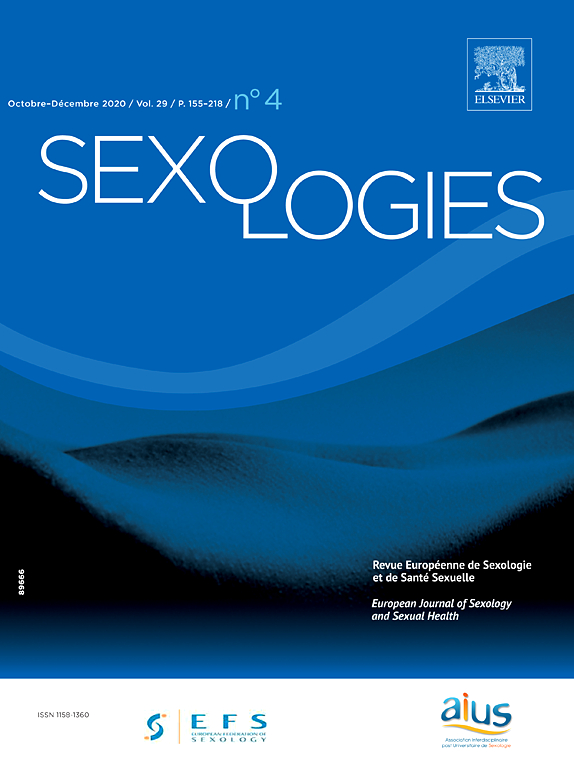 Sexologies is the official journal of the European Federation of Sexology (EFS), and the Interdisciplinary postgraduate Association of Sexology (AIUS) which has gathered French academic teachings of Sexology since 1983.
Created in 1992, Sexologies quarterly publishes original, synthetic articles on human sexuality, its dysfunctions and its management.
Sexologies offers a large panel of information to all health professionals working in the field of sexuality: anatomophysiological and basic research; psychodynamic, cognitive, behavioural and relational evaluations of sexual difficulties; epidemiological, sociological, forensic data; information on new sexoactive molecules; research on sexual physiology, reports on specialized congresses; press and books reviews; ethical aspects; calendar of major events of sexology around the world.
Major international experts in their field joined the editorial committee as Field Editors, confirming and enhancing the will for scientific excellence of the journal.
As a member of the EFS, you can benefit from a preferential rate for the annual electronic subscription to the journal Sexologies: 69 euros instead of 153 (final price including tax). You can subscribe here using this code: SEXOEFS
Editor in chief : Mireille Bonierbale (Marseille, France)
Associate Editors : Alain Giami (Paris, France) • Marie-Hélène Colson (Marseille, France) • Robert Porto (Marseille, France) Pierre Bondil (Chambéry, France)
Adjunct Editors : Françoise Adam (Louvain, Belgique), Stefano Eleuteri (Rome, Italie), Cyril Tarquino (Metz, France)
https://www.journals.elsevier.com/sexologies/editorial-board
Have free access to a special article:
"Between couple therapy and sex therapy: A cognitive behavioural approach. A conversation with Dr Mehmet Sungur"
Professor Mehmet Sungur, president of the European Federation of Sexology (EFS) accorded Alain Giami an interview in which he discusses his professional career in medicine and psychiatry, his interest in cognitive-behavioral approaches and their application to the field of sexuality and couple relationships. Finally, he explains his project for the EFS of which he has just been elected president.